This year I was privileged to take part in Help Portrait for the second year. Myself and my buddy Jeff of Three Photos Photography were doing photography and editing for this very worthy cause.
If you don't know what Help Portrait is, it was started in 2010 by Jeremy Cowart to help underprivileged families get a family portrait with this simple manifesto:
Find a family in need
Take their picture
Print their picture
Deliver it
Kind of a lame thing to do you might say, needy families need far more basic things, food, clothing, a safe place to stay, and I agree. But there is power in a photograph as well. Self-confidence, a sense of stability, or even the simple act of being made-up, babied, and made the complete and total centre of attention can do wonders.

Out here in the Valley we're lucky, there are several Help Portrait events in fairly close proximity. Last year I took part in the Abbotsford one, this year I choose to go to Maple Ridge / Pitt Meadows, partly because my friend Andrea Walker telling me "we're way cooler than them" 🙂

The day started fairly early for setup and preparation, six setups of studio lights and backdrops, tables with computers and printers for printing, and a centre area for framers (responsible for trimming images and putting them in frames). The number of people helping out is not to be underestimated. In addition to the photographers, editors, printers and framers, there were a small brigade of hair and makeup artists, as well as people registering families, amusing kids (now that seemed like a full time job), the several bands and solo acts playing on the stage to entertain us, serving food, preparing coffee and cookies… really a small army was there.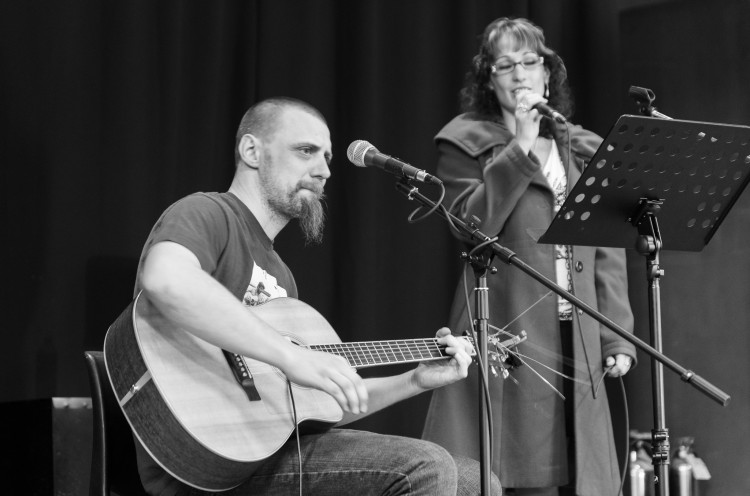 The doors opened to the public at around 1pm and honestly it started a bit slow. Makeup always seems to take a while, but when the flood started… man, did it go. Even with five stations going we were always working hard, and doing our best to keep the images flowing out to the people as best we could. Sometimes we got ahead, sometimes we got behind.
The day was long. Lots of people. Some families, some single people. One lady who got so anxious that she didn't want me to take any other pictures, and told me the test shot I took was ok, who's lip was actively trembling while I photographed her. The group of three friends (their relationship to each other was…. "complicated" I was told) who were wearing sweatshirts that had seen better days but who lit up with the most amazing smiles I've ever seen.
Lots of people.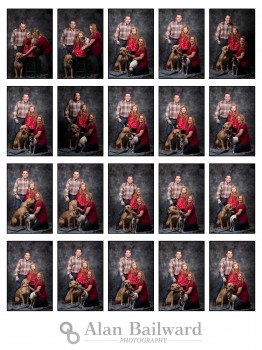 The last family I photographed was a family of three, mother and father and adorable daughter. I finished taking the pictures and then was told "ok, now we can bring the dogs in", and then we took pictures of the family of three and their Jack Russell and (very excited) Rhodesian Ridgeback. I must have taken 20 shots just to get one where everyone was (mostly) looking at the camera and (mostly) smiling. It was a hell of a way to end the day 🙂
Jeff and Laura and Andrea and I were there until almost 9pm. I had an amazing time. I've already signed up for next year. If you think you can help out, be it as a photographer or cool or simple volunteer to help move people from one area to another, please head over to Help Portrait and sign up with a group in your area.