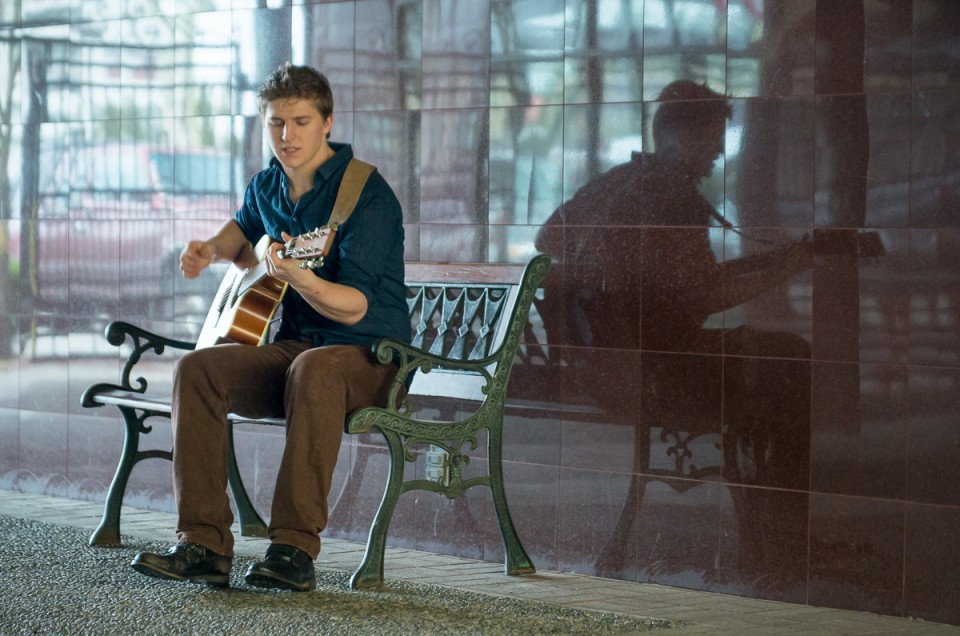 Adam Briscoe is an up and coming singer/songwriter from the Fraser Valley.  I've been talking to him on and off on Facebook for the better part of six months, trying to work out to do a photoshoot, and we just hadn't been able to get connected up until last week.  He was going to be in Harrison Hot Springs, which is a short drive down the valley, so with the weather looking fine on a Saturday morning, I set off.  I have to admit I got a bit nervous as the rain on the windshield went from the occasional drop to a splatter, and then full on rain as I got closer.  When we met on the pier at Harrison it was a full on downpour of potentially biblical proportions, but luckily Adam is a local, so he knew the nooks and crannies.
We did some photos under cover of one of the hotels.  I just asked him to play while I shot, and he did.  Probably twenty minutes of rocking out on the guitar, singing his own music and a bunch of Beatles music.  If you talk to Adam for any amount of time you'll see he's got a obsession and idolization with John Lennon and the Beatles bordering on unhealthy, but you can't deny that they're a huge influence on him.  You can tell the love he has for music just by looking at the wear and tear on his guitar.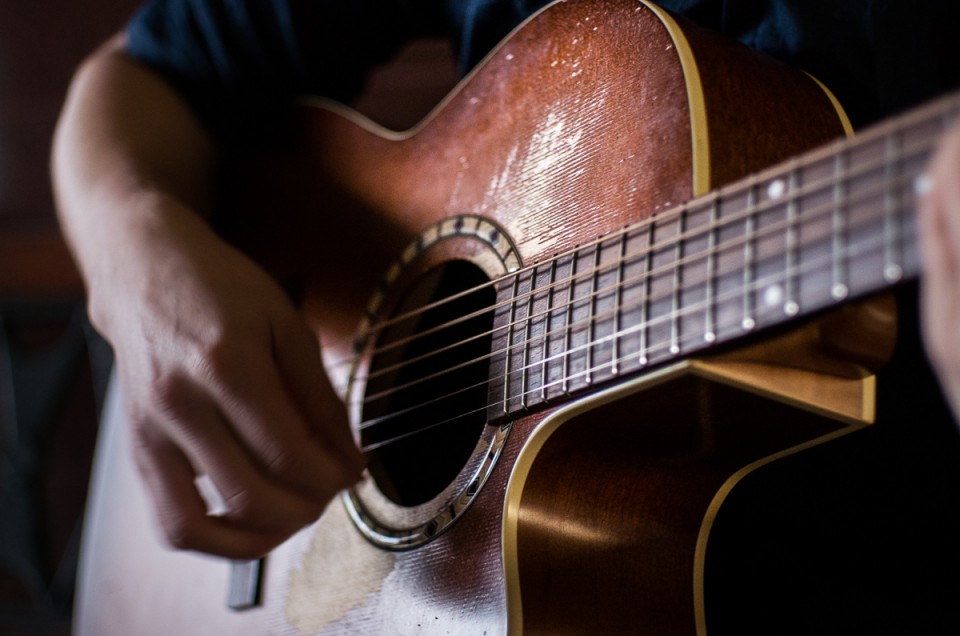 The rain suddenly stopped and we went (practically at a run) to the shore to get some shots out in the open.  No sooner did we get onto the pier though, when it started back up with a vengeance.  Adam was a trooper though (as was my wonderfully waterproofed gear) and rocked out with his guitar (the same model that Lennon used I believe he said… told you he was a bit obsessed) at the end of the pier, until we were both pretty waterlogged, and decided to part ways before we both drowned completely.
Had a great time with him, and expect great things in the future.  You can follow him on Facebook and on Twitter as @ABriscoeMusic.  He plays a lot in Vancouver to keep an eye out for the announcements and head out some evening to check him out.