Tonight I got to have a very short hands on with the Pentax 645D digital medium format camera. Now this isn't it's new big brother, the Pentax 645Z, which has a new 51 megapixel sensor, and not the old and busted merely 40 megapixel CMOS sensor. Ah well, that'd explain why it was on sale for only $6,799 and not the full $8,499 of the 645Z.
The camera is a beast… huge and unwieldy. If you're used to the nice small DSLRs from Pentax (such as my current favourite, the K5-IIs), or even the larger Nikon or Canon full frame bodies, the 645D feels about ten times the size. At 1,480 grams, compared to 676 grams for the K5-IIs, it's only just over double, but still has a length and girth that are intimidating. This is definitely not a camera to carry around on the street, or have hanging off a strap in the studio. But if the weight is a consideration or concern, you probably don't need it anyway.
The sound of the shutter is like the cocking of a shotgun, a ka-thUNK as you hit the shutter.
The dials and buttons felt like they were high quality and placed in reasonable locations on the back and along the sides of the body. While I only played for a bit, the button and menu layout felt very familiar to other Pentax products, so anyone with experience with the brand will feel completely at home.
I did have some issues setting exposure though. At first I couldn't get the ISO to change below 1000, and then for the life of me (even in manual mode) I couldn't get the shutter speed and aperture to change in what I felt was a sane manner (switching from f22 to f20 to f18 and back to f22). Because I had a very nice salesperson patiently waiting, I used the 'green button' (a unique Pentax feature I think) to automatically set a good exposure and then I snapped a few shots. Note: I noticed after that previous camera-gropers had made some settings changes, and I think the camera was set to bracketing mode (or something like that) which caused me the settings issues.
I managed to snap just a few shots, a couple of which I present here, along with links to the RAW files. If you're wondering, the out of camera JPGs weigh in at about 20mb while the RAW .pef files are in the 70mb range.  The images here are with minor exposure adjustments and a hint of noise reduction, links go to the original files from the RAW+JPG shot.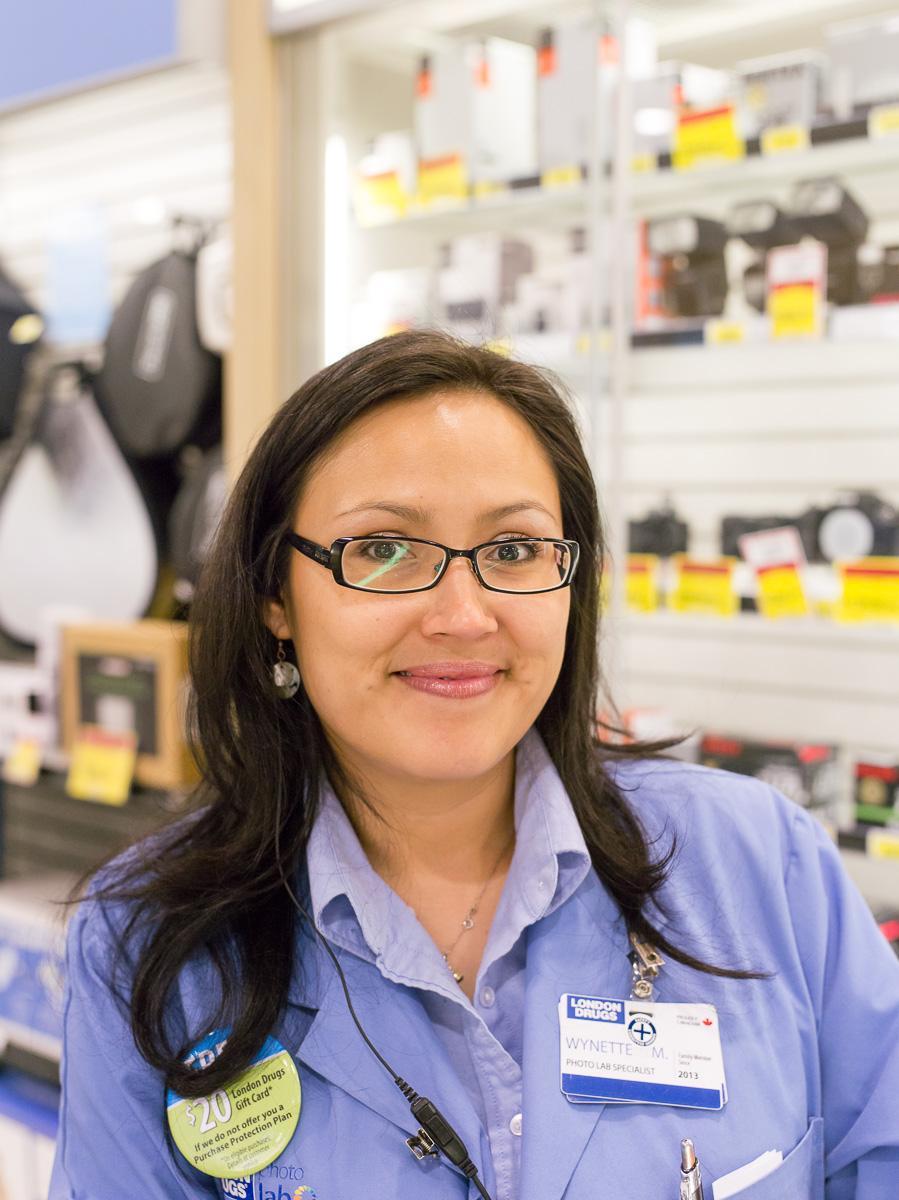 1/125 sec @ f/5.0, 1000 ISO.  Download original RAW (66.6mb) / JPG (17.7mb)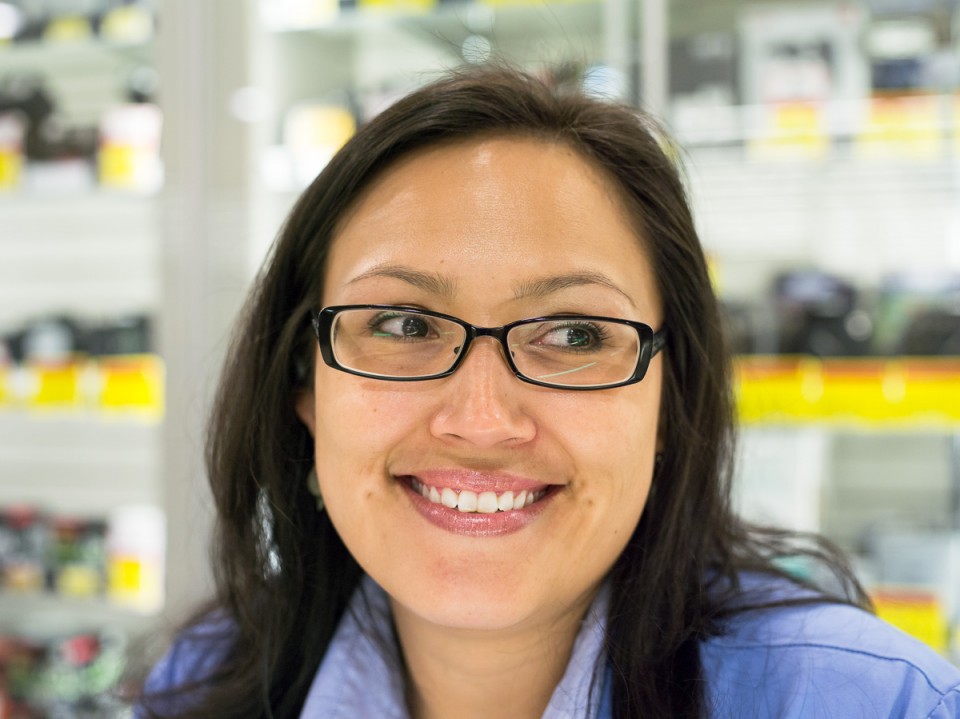 1/125 sec @ f/4.5, 1000 ISO.  Download original RAW (66.8mb) / JPG (17.5mb)
If you are really wondering what the benefits of such a huge file are, it's cropping power.  Here's an example of  the original shot:
1/125 sec @ f/5.0, 1000 ISO.  Download original RAW (71.7mb) / JPG (19.2mb)
And here's the 100% crop.
Yea, that's reading the fine print on a box from a picture of a wall of boxes.  Crazy.
Honestly I don't have a lot to say about the images, they're ok snapshots at best. As someone who's only really had experience with up to about 24 megapixel cameras, so being able to zoom in and see nose hairs from a 3/4 portrait is pretty damn amazing. From what I understand though, the real benefit of a medium format sensor is not pure megapixels (the Nikon D800 is 36 megapixels after all), but in the smoothness of transition of colours and light levels, and ability to pull an amazing amount of detail from shadows and highlights, neither of which is really applicable in my test shots.
I'm not going to comment on the cost of this beast. If you need a medium format digital camera, you probably know it. If you're wondering about the cost being so high, you probably don't need it. But you also probably know that the equivalent Hasselblad, the H5D-60 for example, is $40,000.
So that's it. If I had a spare $7000 sitting around in my couch cushions, would I get this? Nope, no chance, not because I don't like it (if you want to send me one to use please contact me and I'll gladly take it), but I know I don't need it (yet). If I was a commercial photographer required to shoot shots to blow up to billboard size all day? In a flash, though I'd probably go for the 645Z with the ten extra megapixels and (as I understand it) better (and four years newer) sensor.
If you're not like me and do have a spare $7000 sitting around, you can buy it online from either B&H Photo Video or Amazon.