Maybe you've heard of a H.O.G. Rally, but if you're not an owner of a Harley-Davidson, you might be wondering what exactly it is. H.O.G. stands for Harley Owners Group and is an organized gathering and ride by a group of Harley-Davidson owners.  Stan Nickel — Harley ride coordinator — describes it as Harley-Davidson wanting to ensure a continuing relationship with their clients.  The more cynical among you may think this is more a company keeping effluent, high value customers close so they can buy more things, but potayto-potahto…
I had the opportunity to attend one as a photographer for the Chilliwack "Rockin' The Valley" H.O.G. Rally and hope that the photos below give you a bit of an idea of what happens at one, and how it went!
We started off in the morning in a parking lot in Chilliwack.  There were people organizing riders, signing people in, signing waivers, etc.  Well organized and with high regard to safety and ensuring everyone has a good time.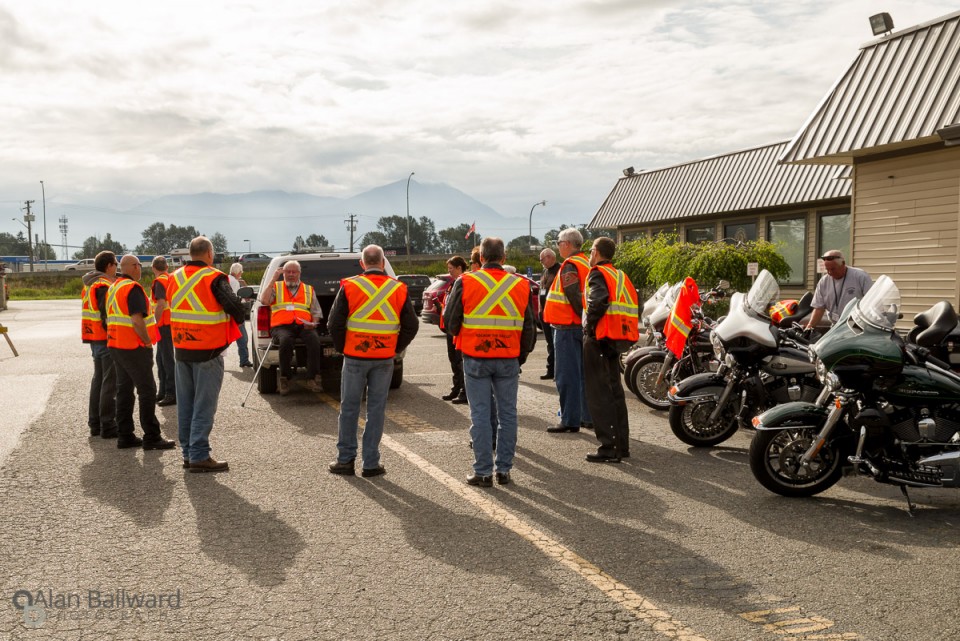 After the preliminaries were done, I went out ahead of the pack of H.O.G. Rally riders to arrive at the first stop (Fort Langley Fort) before anyone else did.  I only had to wait a little while before bikes started showing up.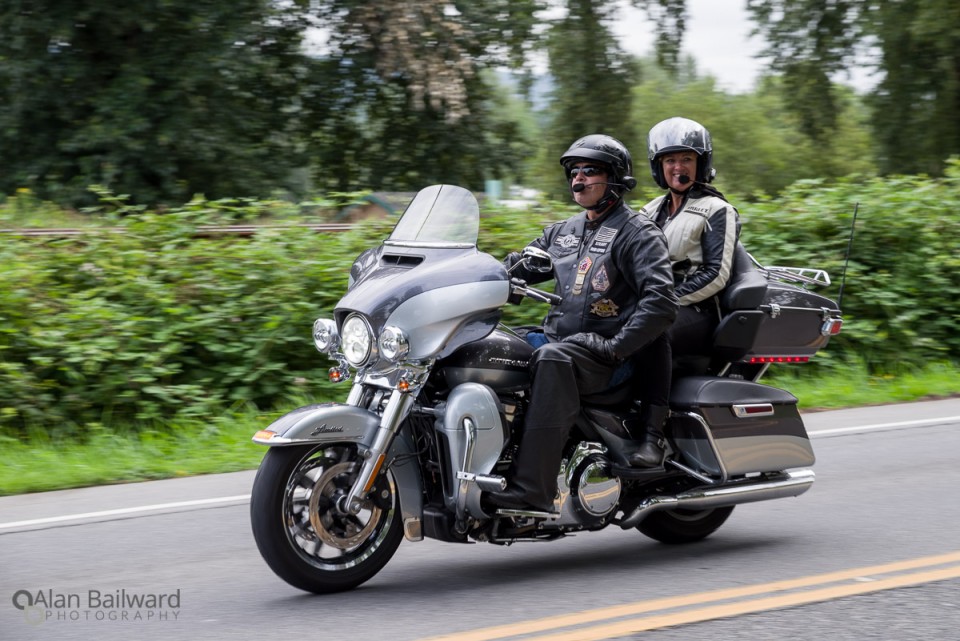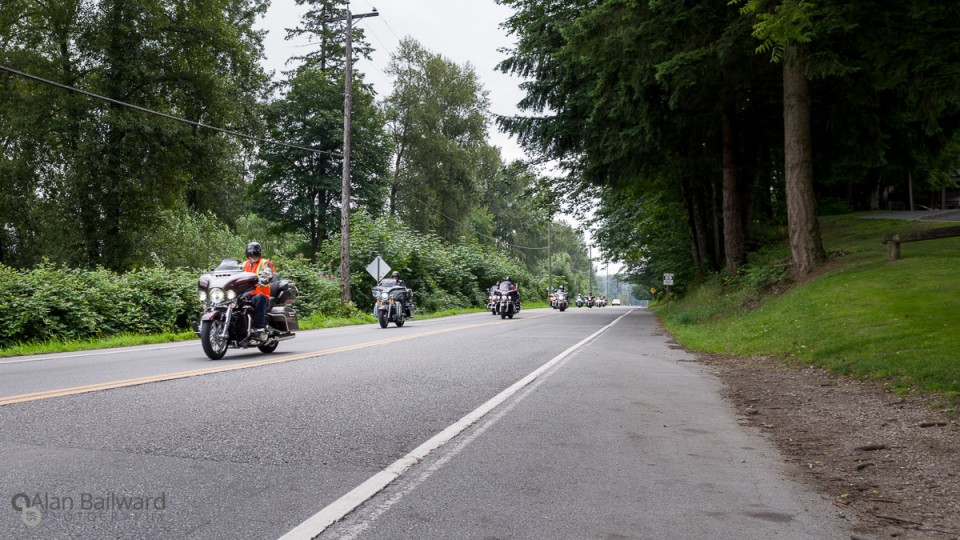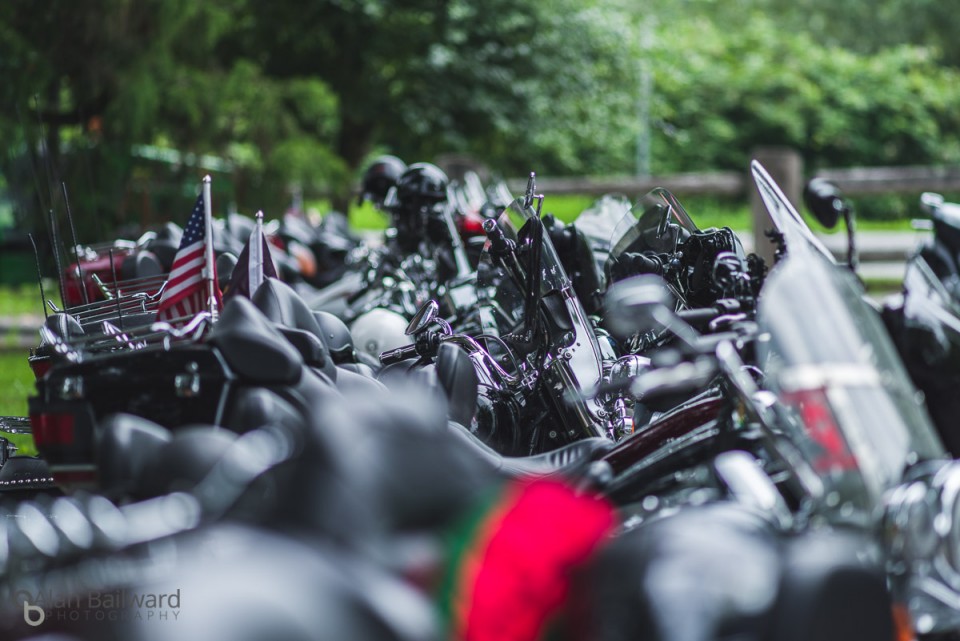 One thing I learned about Harley owners is that they really, really love to add cute details to their bikes.  Here are a few of my favourites.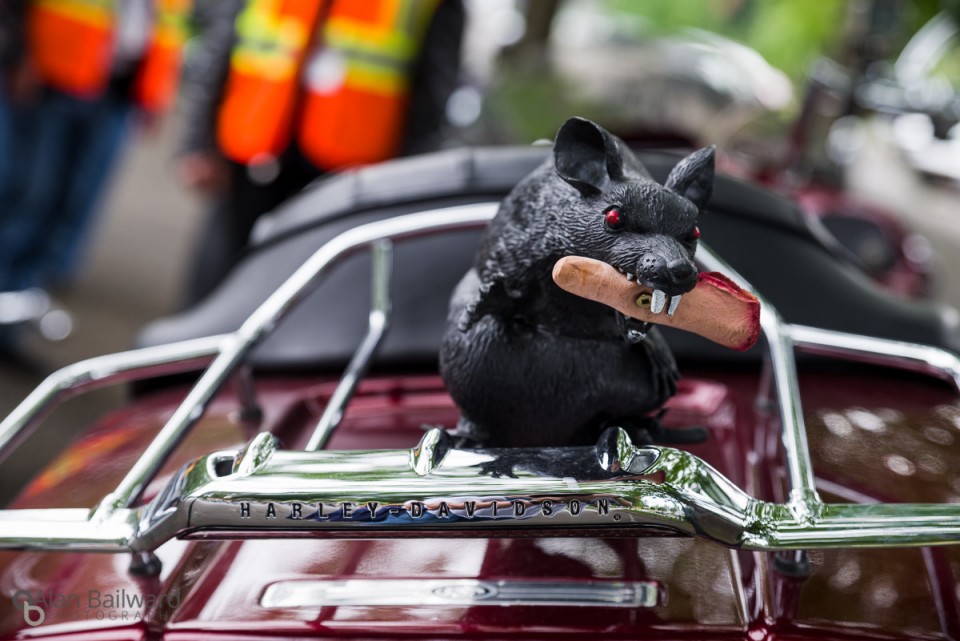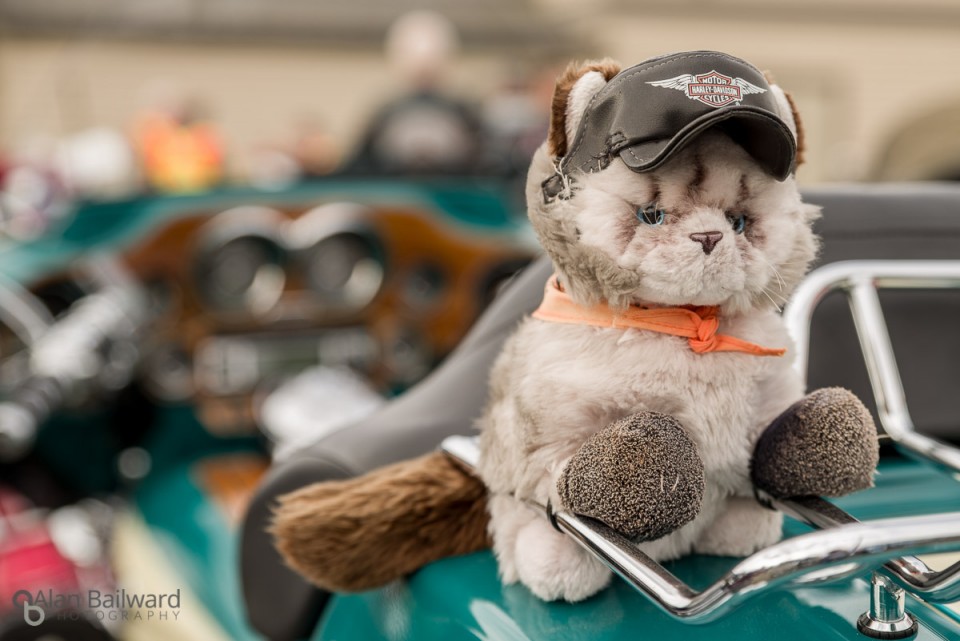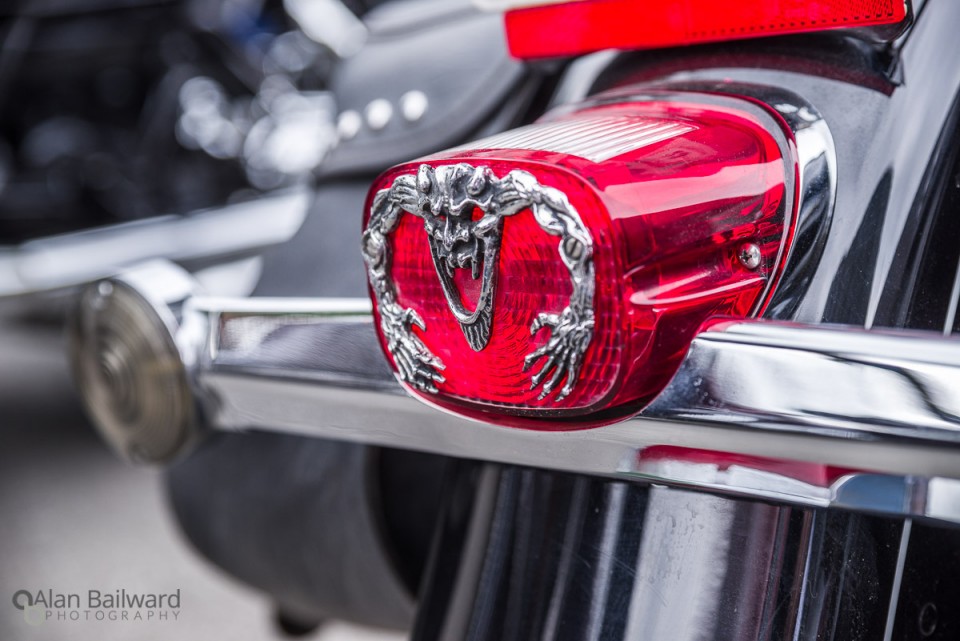 The logo and motto of Harley-Davidson is fairly prevalent on many parts of the bikes as well.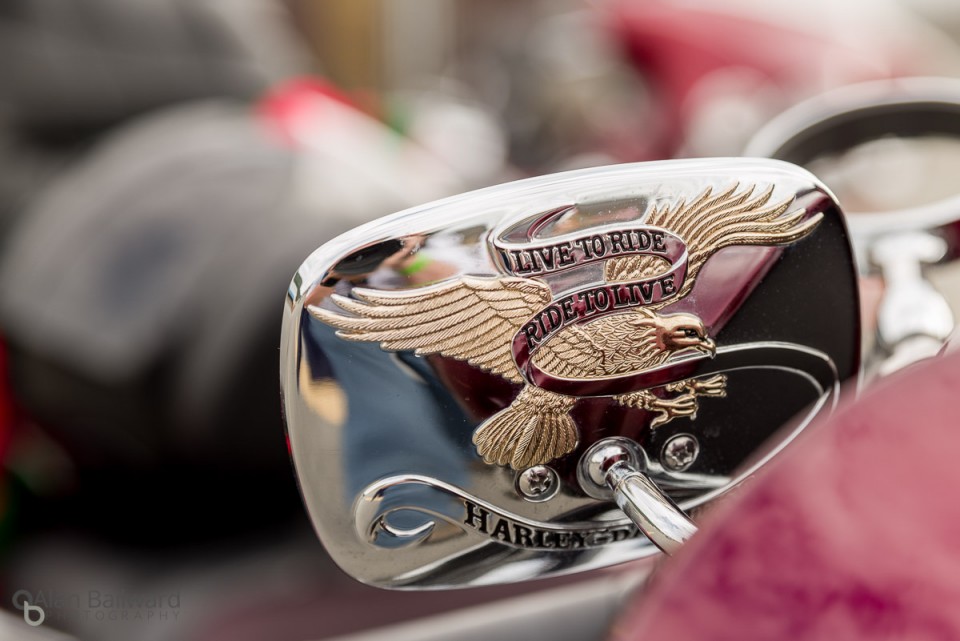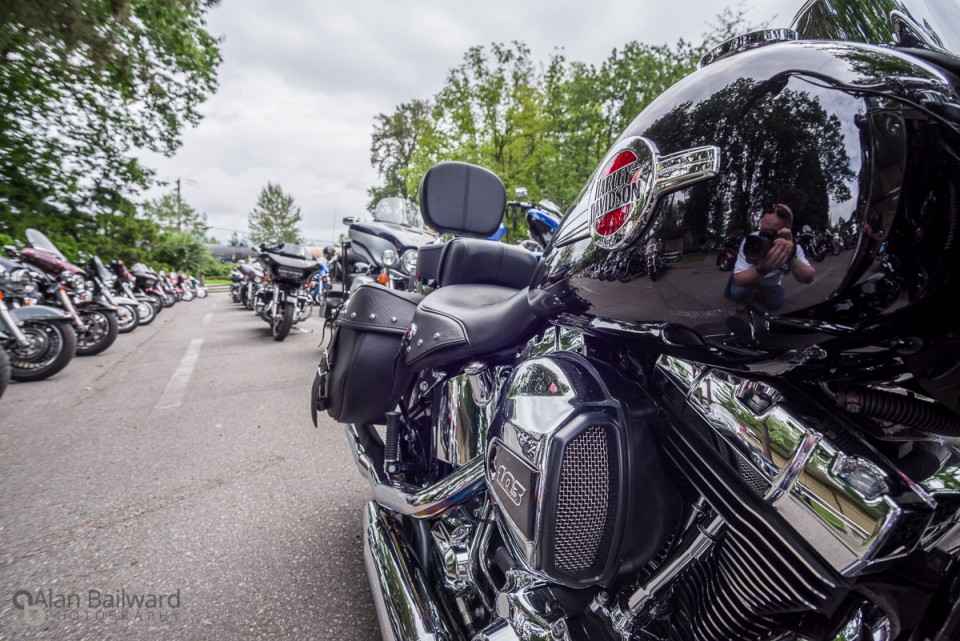 Ever have a preconception about bikers?  Tough?  Hardcore? Dangerous? Scary?  Throw all that crap out the window.  First of all, most of these guys were in the "grey hair" age, and about as nice as you could get.  They were more than happy to tell me about their bikes, answer questions, and just generally shoot the shit.  It makes sense as well.. with a Harley being in the same price range as a car, chances are high that their owners are a bit older.  Not many young punks can throw $30k down on a motorbike to play with (and only drive in the sun).  A definite benefit of getting into the Harley lifestyle though, is you get a built in group of folks to ride with if you go to a H.O.G. Rally.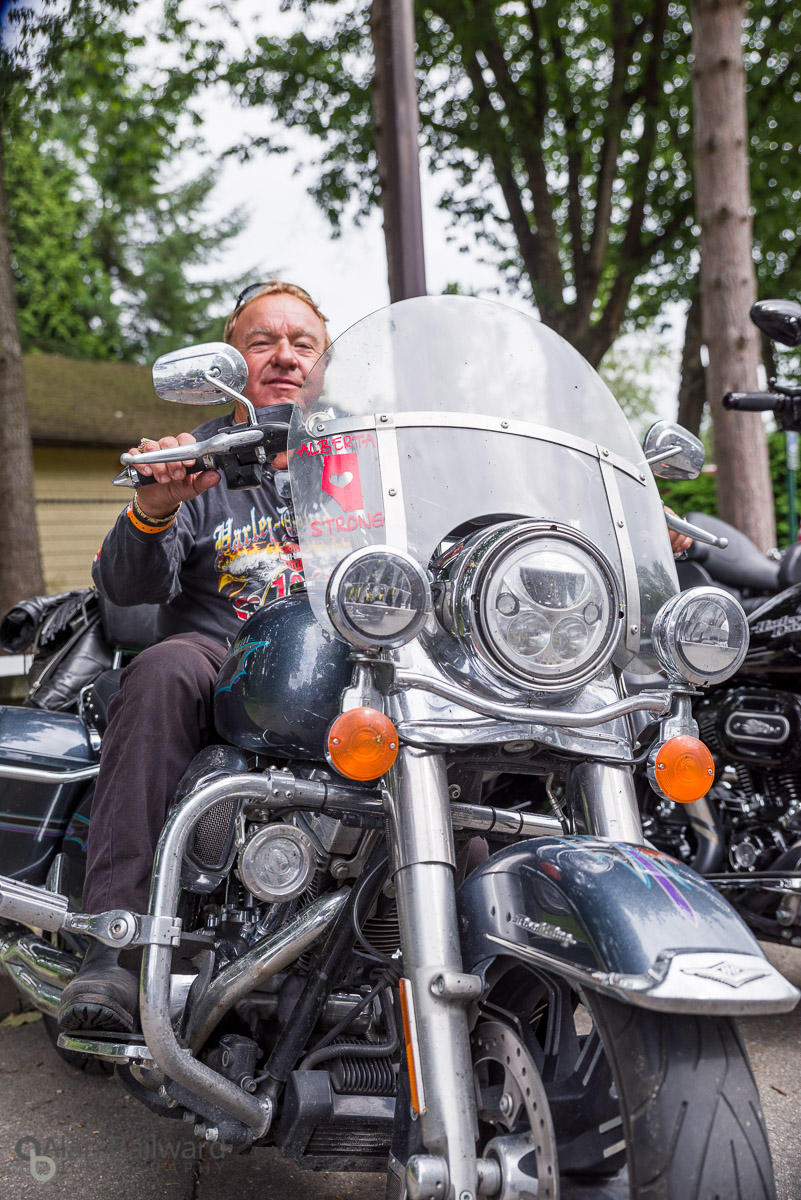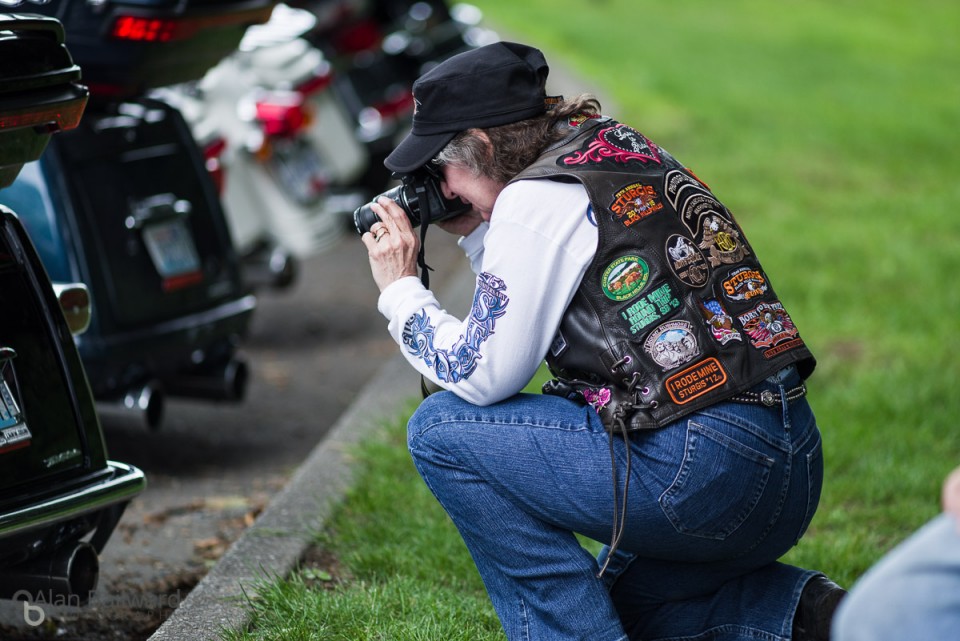 Bikers came from as far as Oregon and Alberta (one fellow technically came all the way from Australia!) and many hadn't been to the Fort before. It's a great place if you've never been, and not that far from downtown Vancouver.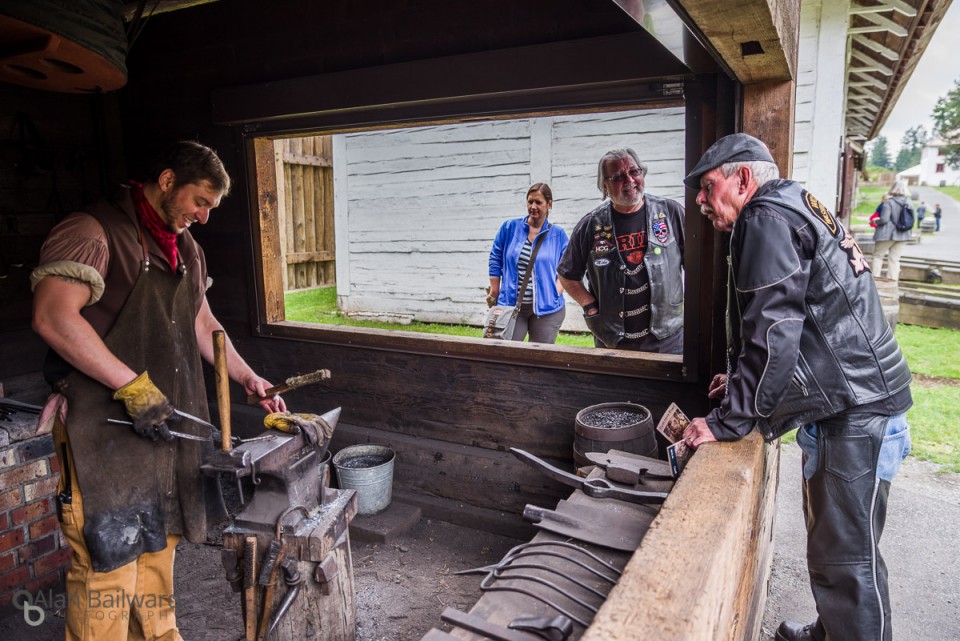 Biker bling.  This lady was out of Oregon and went routinely (as you can see) to the Sturgis Motorcycle Rally, a similar rally held yearly in South Dakota.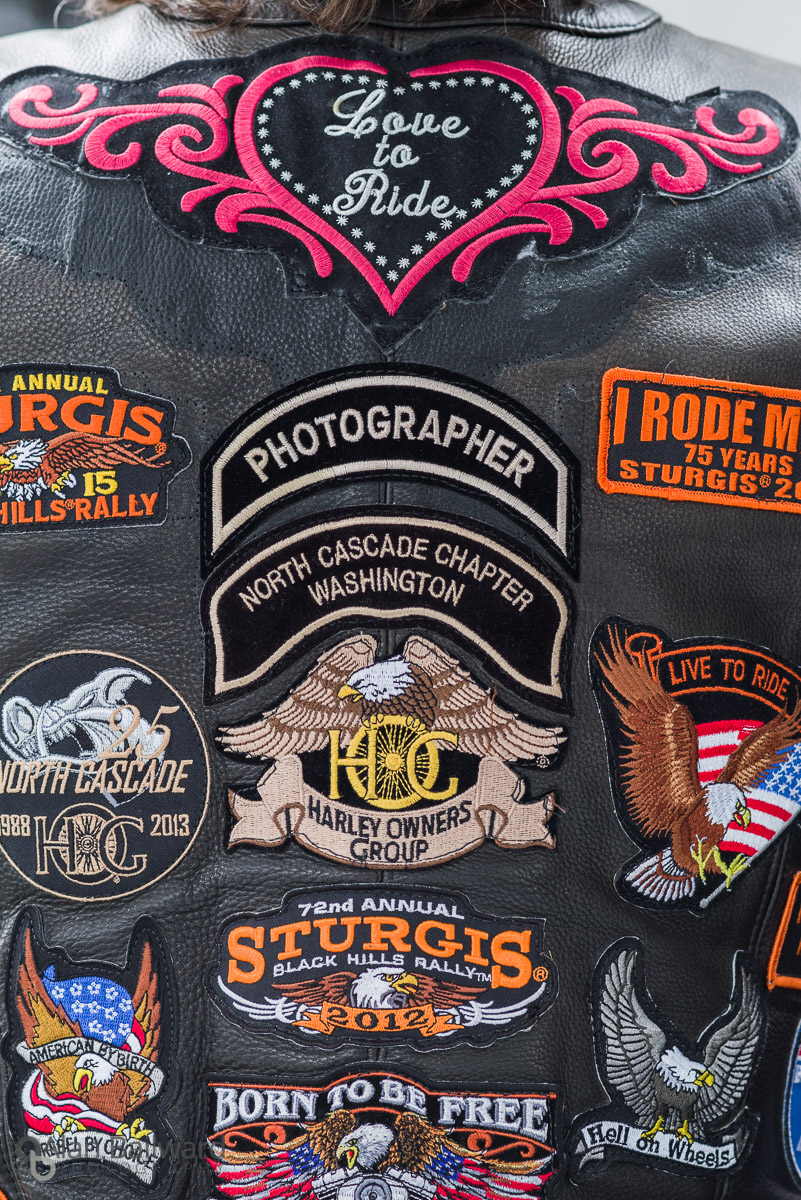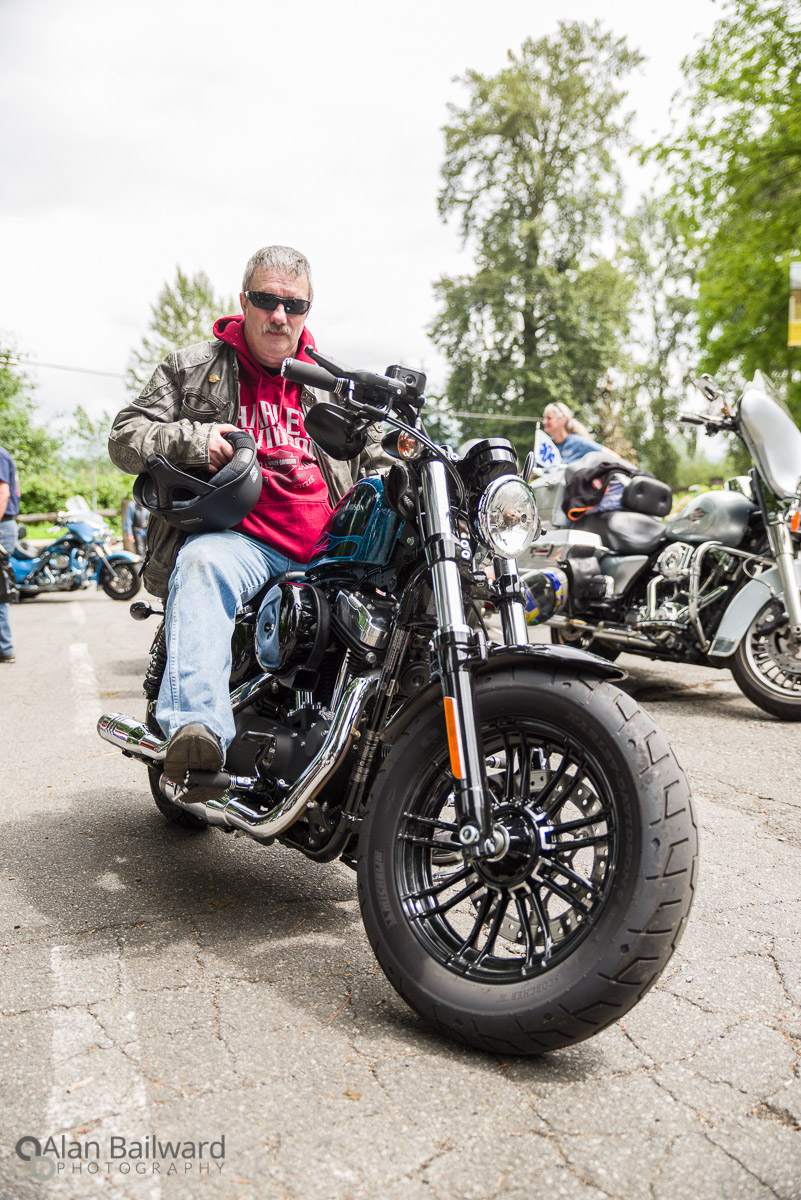 After hanging around for a while in Fort Langley, everyone packed up and headed to a very cool little ice cream store called Birchwood Dairy Farm.  A family owned and operated farm in the outskirts of Abbotsford, they make and sell their own (delicious) ice cream, and luckily were well prepared for 50+ bikers with an appetite for ice cream.  I won't lie, I just really liked taking photos of tough looking bikers eating ice cream….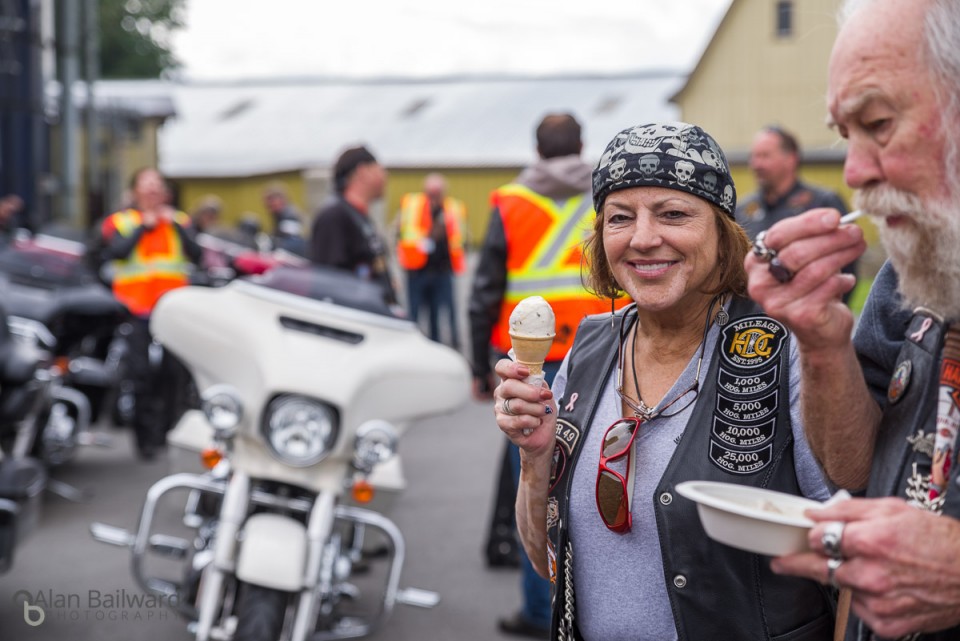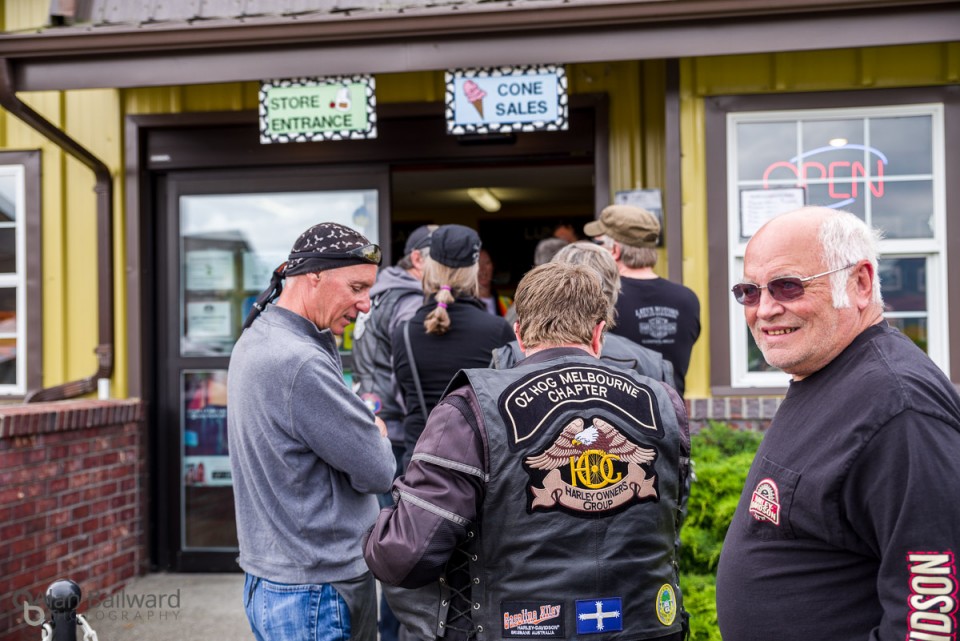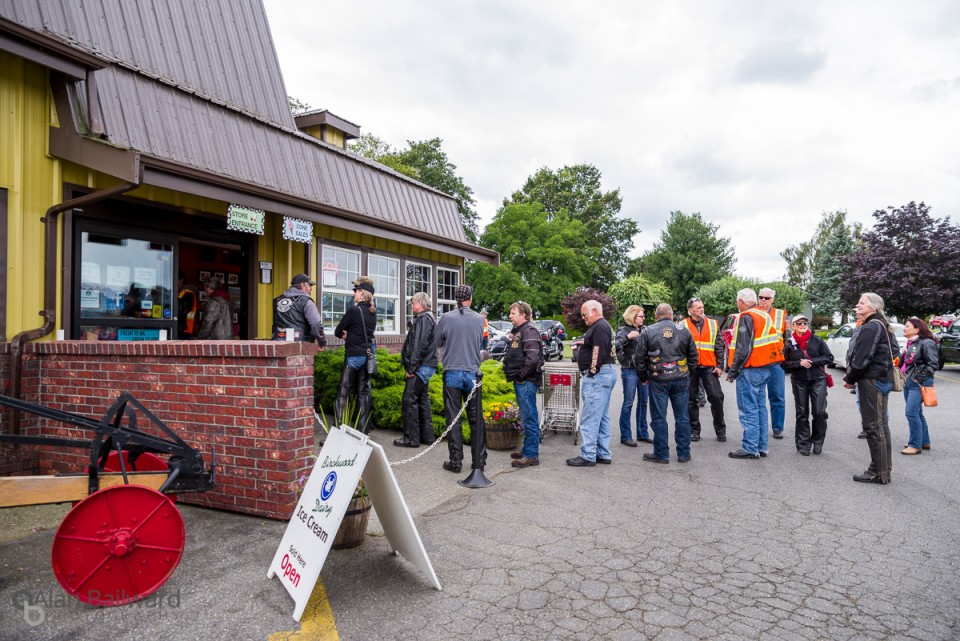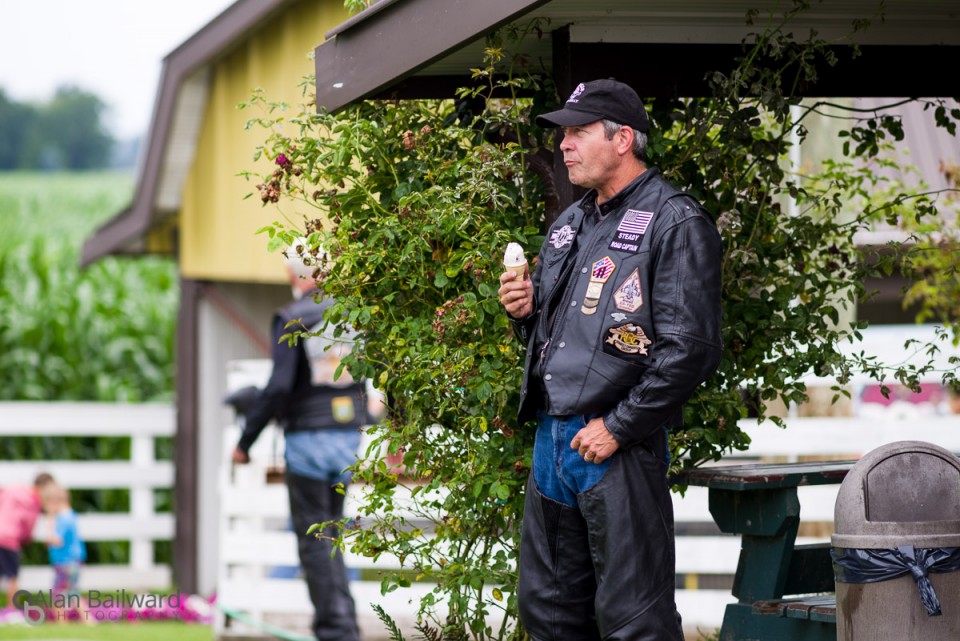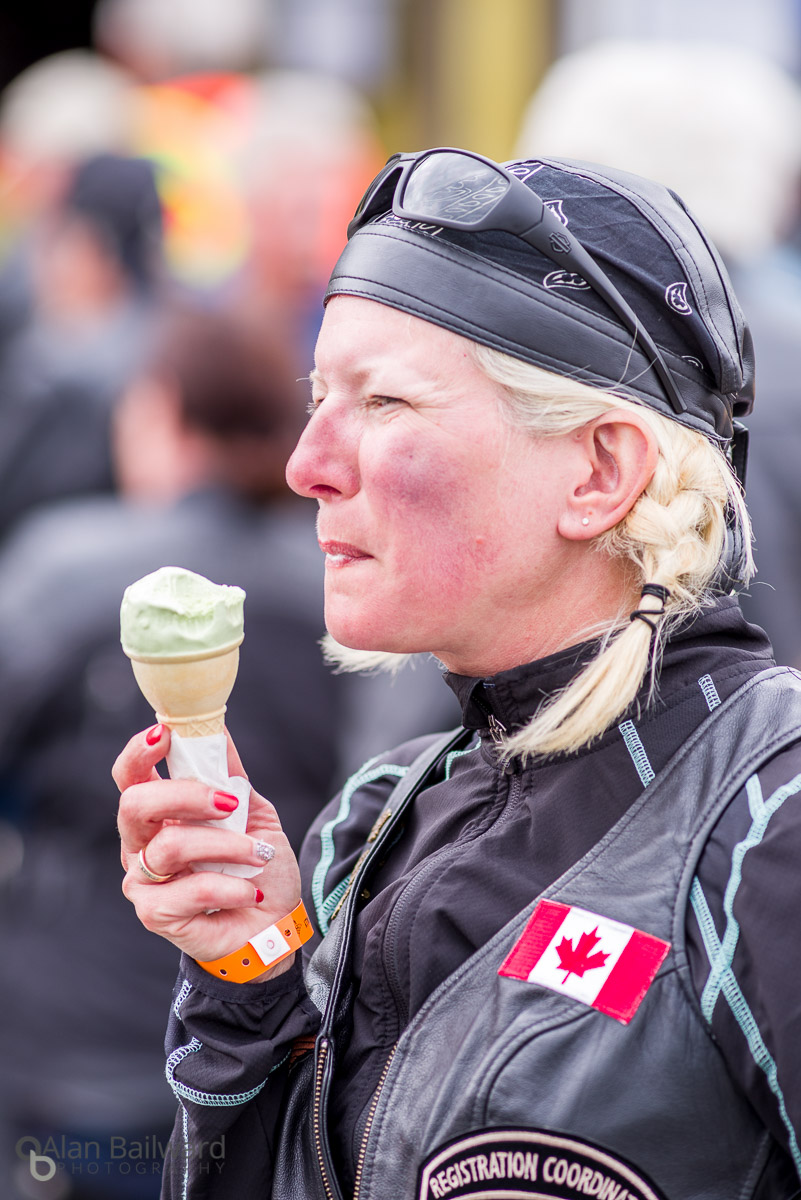 My only disappointment for the ride back was that my driver wasn't quite crazy enough to get us past the riders on the way back.  Though I suppose with heavy traffic it was probably a good idea 🙂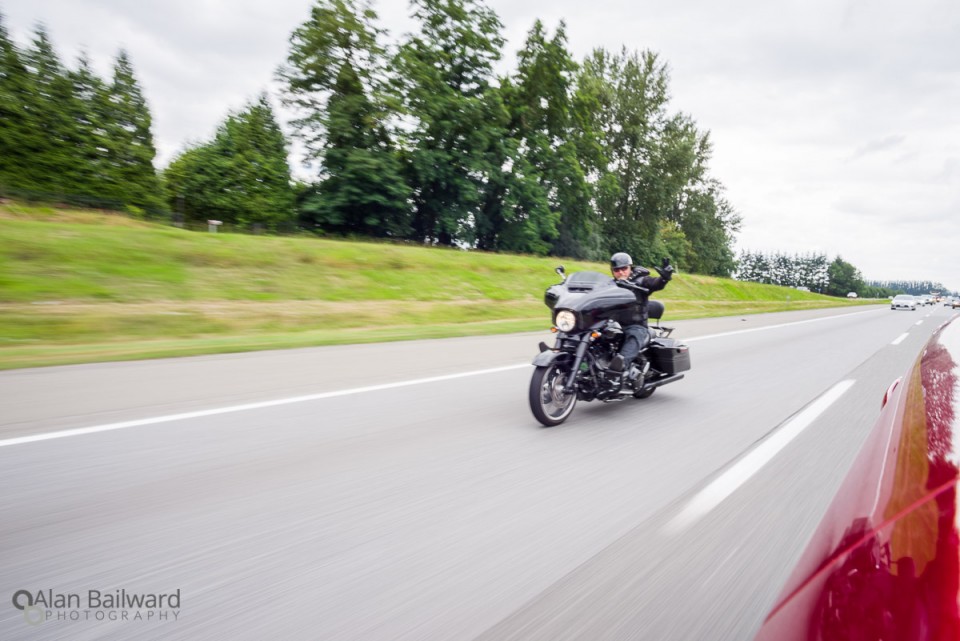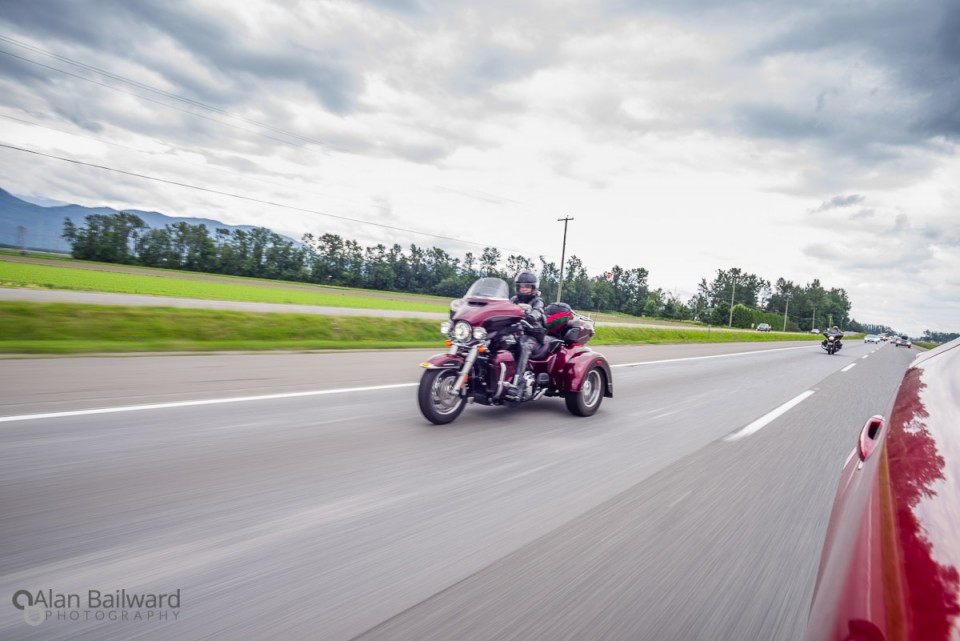 I'll end this post with a shot of the senior leadership of the organization, with Stan Nickel in the middle as their intrepid leader.  A bunch of great guys who I look forward to working with again!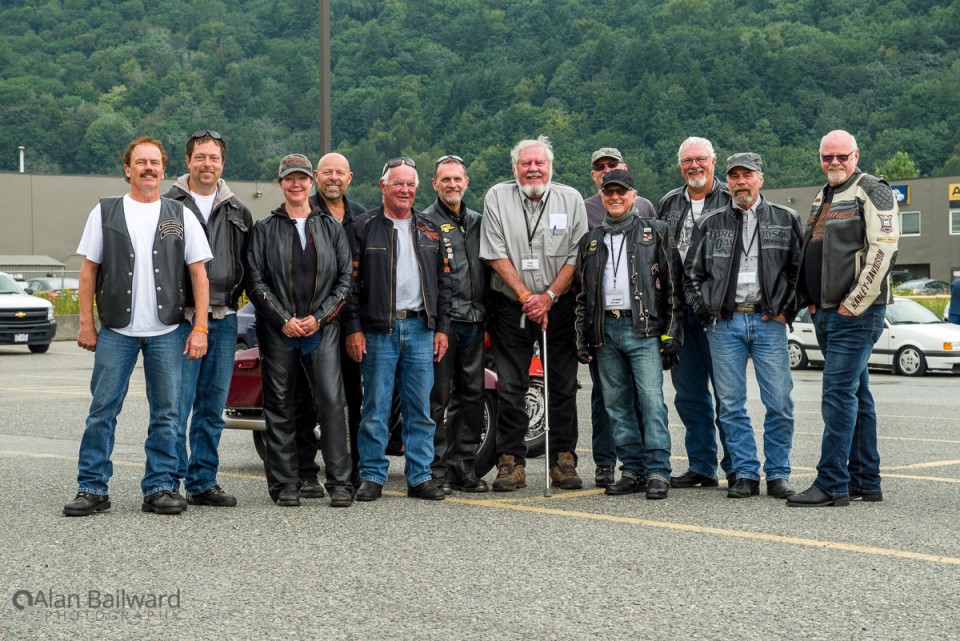 If you're a Harley owner and interested in finding out more, or want to sign up, head to the H.O.G. Events page, or the members page. If you were part of the Rockin' The Valley event, thanks for the great time!