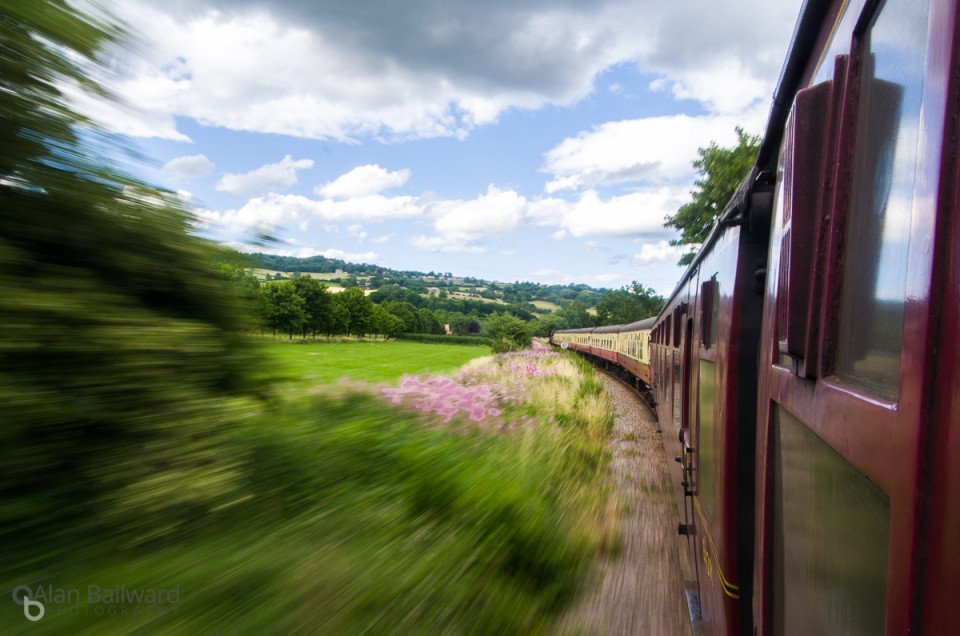 This is a throwback photo, but I had a thought about it.  Photos are made by gear, but aren't about the gear.  This for example, just looking at it takes me right back to where I was.  The ride was on and old steam train out of Whitby, England.  We'd just spent a day at Robin Hood's Bay and were told we just had to take this old steam train.  We finally got on it, spent far too much money for tickets, waited around some more and then took the hour or so trip out and then back.
Somewhere along the trip back I decided to see what a long exposure would do to the trees and foliage rushing by.  I moved to the section of the car with an open window, jammed my head and hand (with camera firmly strapped to it), and used the side of the train to keep the camera as steady as possible.  I knew the key to the shot was two part.
Image Elements
First, the train itself had to be stable.  A blurry shot is (with some rare exceptions), just a bad shot that you don't share, but a blurry shot with some parts not blurry, well that's art!
Second, there had to be the right mix of elements.  Just trees rushing by would be boring, but just landscape wouldn't show the speed we were going by.  If the train was curved away from the camera there'd be no leading lines to lead your eye through the photo.  Looking at other photos in this series, not having the splash of colour from the flowers, or the wrong mix of land and tree and train, it just didn't work.
Gear
For this photo I used the Pentax K-5 IIs and the Pentax DA 16-45/f4 lens.  The K-5 IIs was Pentax's first DSLR body without an AA filter, meaning that the images were very sharp, but you had the potential of "moiré" patterns on screen doors or plaid shirts.  They later solved this in the K-3 and new K-1 (my K-1 Real World Review here) with an AA simulation mode where the lens moves ever so slightly to add just a tiny bit of blur to eliminate the moiré.  The camera had a respectable 16 megapixel sensor and was deliciously small and light (yet still compact and solid feeling) which made it a decent travel DSLR.
The DA 16-50 is not one of Pentax's premier lenses like the DA* 16-50/2.8.  It was sharp, but not especially fast, meaning it struggled in low light. It did however, cover almost the same range as a 24-70mm lens, which by most is the perfect all around focal range for a lens you keep on your camera all day long.  It is also .78lbs, which is practically a feather compared to the new D-FA 24-70/2.8 (my review will be posted soon!) at 1.75lbs, making it that much better for travel.  It's wide enough to get some interesting effects indoors for wide angle shots, but long enough to give you a decent portrait shot at the 45mm end (67mm equivalent).
Camera Settings and Processing
The settings for the shot were 1/15th, f/18, ISO 200.  In bright daylight the only way to get your shutter speed really low and not blow out from too much light is to restrict the amount of light going into the camera, thus, cranking up the aperture to f/18.  Looking at other photos in my Lightroom library near to this I experimented with 1/30 and 1/60 as well, but neither had the same "rush" of the landscape.
Processing in Lightroom was also fairly simple.  Bring the highlights all the way down, pop the contrast up a bit, the blacks down a bit, the clarity and vibrance up just a touch to give that "pop".
All in all when I look at the photo I'm immediately transported back to the wonderful four weeks in the UK and that great steam train ride through the gorgeous English countryside. I have chosen to submit this photo into a project called Vantage Point, created by a new compact camera technology called Light.