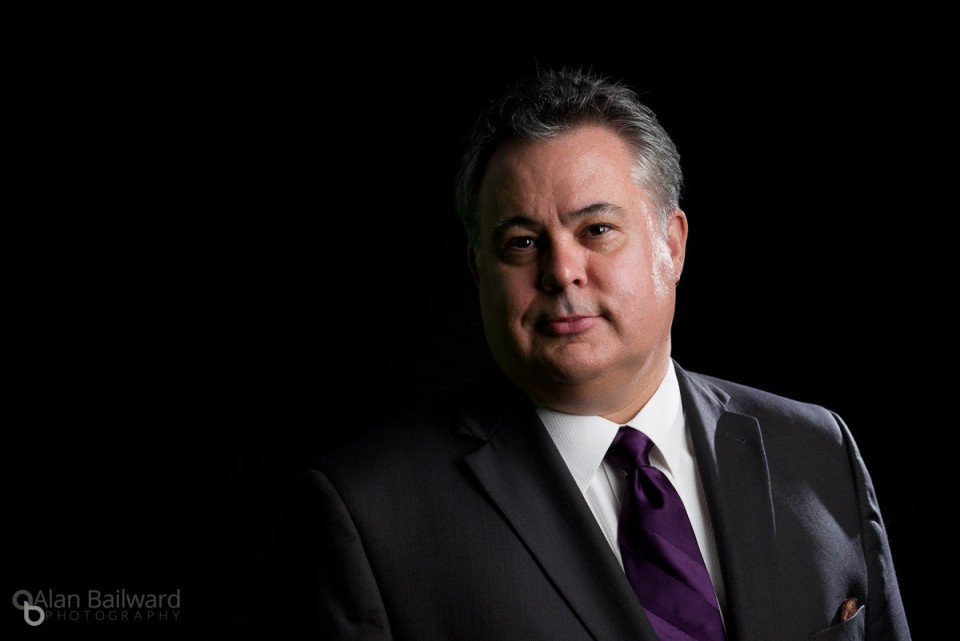 My dear friend Jay, who I met before photography was even a twinkle in my eye, has grown from a lovable guy with a great wife working as a tech guy at the local ISP to a lovable guy with a great wife and a big fancy job being all corporate and stuff.  He's now what we in the IT business call "a big shot" and needed a new headshot for business cards and speaking engagements (told you he was fancy!).  He came to my workplace "studio" and we had a session that resulted in some great shots of him.
Here's where we shot.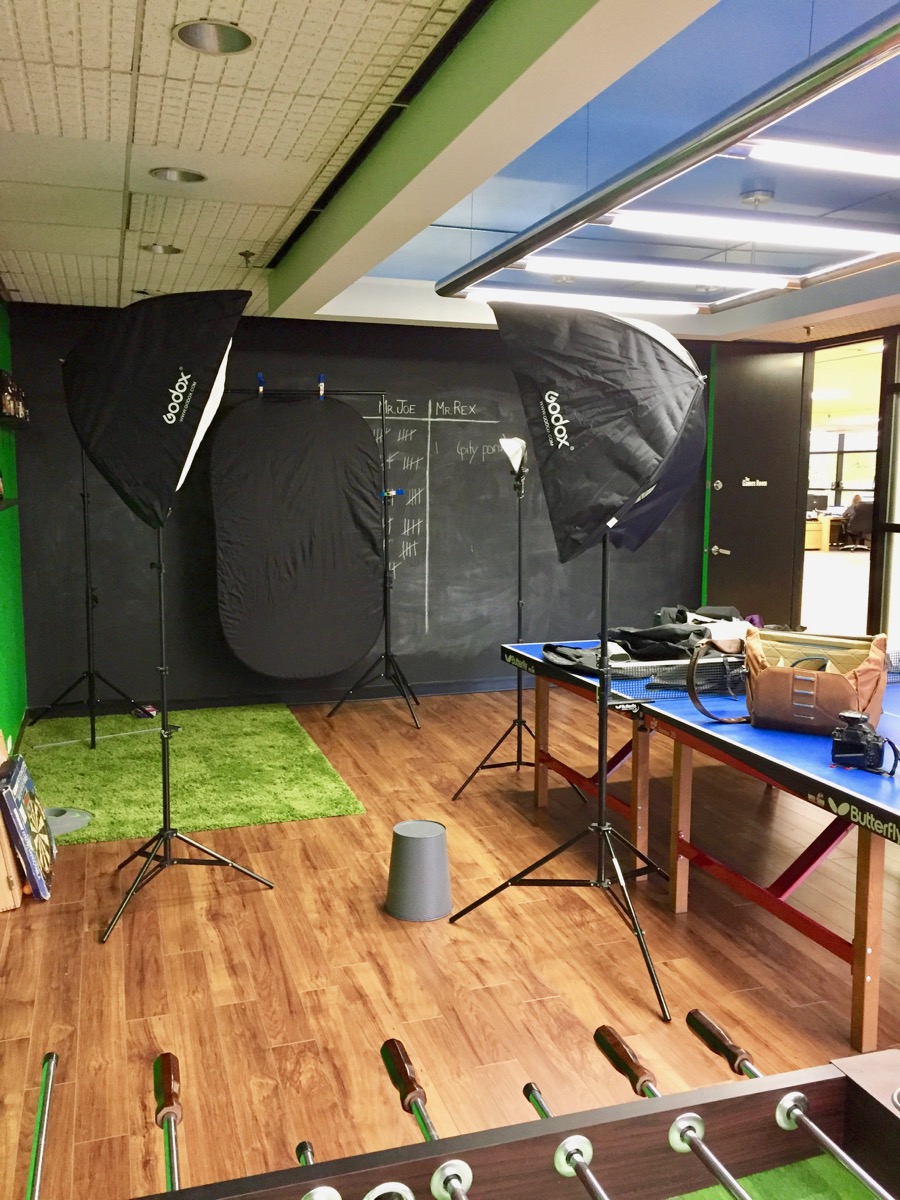 A few things to note here.  This is the games room of Left Media Inc, which is a great room to shoot in and where a lot of headshots have been created.  You'll see our foosball table (I won against John 10-8 just today), ping-pong table (or as I call it, "horizontal storage") and blackboard wall (the writing is left over from filming this video for the Canadian HR Awards).  The camera gear is of course my trusty Pentax K-1 with the Sigma 85/1.4 (a fantastic portrait lens).
Behind him is a Impact 5×7′ reversible background panel held up by a generic background stand.  This makes it easy to go from a white to black background as needed.
The two Pentax AF540GZ flashes are in Godox 24″x36″ softboxes to create some flattering light, and the whole thing is triggered by Cactus V6 radio triggers (the V6 has been succeeded now by the even better Cactus V6-II with many improvements, including supporting high speed sync).
For these shots Jay stood just behind the garbage can… uhm, "posing stool".  He's far enough away from the background that the light from the softboxes didn't hit it too much, leaving it mostly black (inverse square law anyone?) and only requiring a little darkening in Lightroom.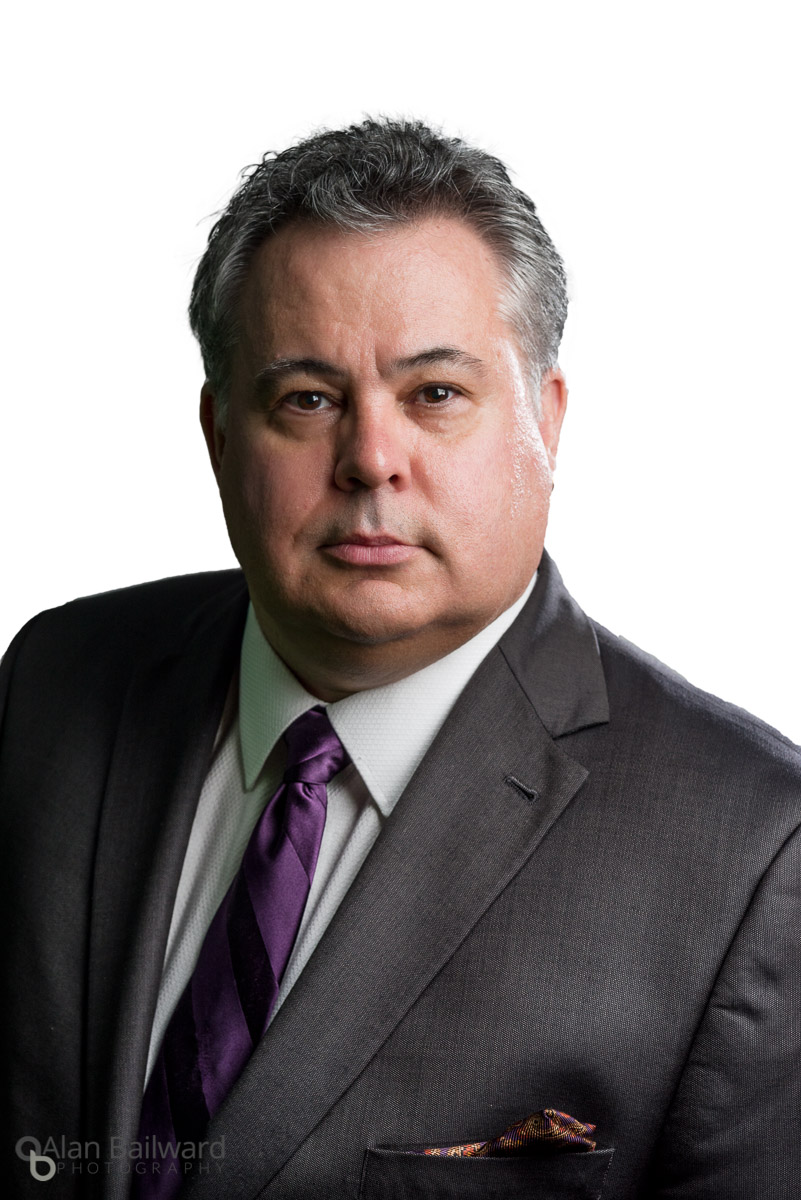 After all the setup and tech stuff is over, as Peter Hurley says, you're just playing psychologist, working to break the subject out of what shell they may or may not have, and to get a "real" expression to make this lovable mug look as fancy as he is for his gigs.
This last shot I think is my favourite.  I think this is my "real" Jay.