My Review Of the Pentax-D FA 24-70mm
After I got the Pentax K-1 I decided it was time to invest in some of the newly released full frame lenses.  The first I got was the Pentax-D FA 24-70mm f/2.8ED SDM WR Lens, a gorgeous bit of kit that I'm happy to put together a "Real World Review" of.  This is a big and chunky lens, which is not what Pentaxians are used to with their lovely small and light APS-C lenses, but it's been the lens that's on my camera most of the time since I got it, as the 24-70 is the canonical "walk around" lens.  But does that come at a price?  Read on…
As with my previous review, I don't have a complicated setup with sharpness charts and micrometers and whatever else you have when you test camera gear for a living. You can head over here for something like that.
I can however give some thoughts after using Pentax's new HD DFA 24-70mm/2.8 ED SDM WR. Wow, that's a bit of a mouthful so let's just simplify it down to "the 24-70".
The 24-70 is one of Pentax's new "HD D FA" line of lenses to compliment the wonderful K-1 full frame camera. The other, the HD FA* 70-200/2.8 will get a review when either I can afford one myself (mid 2020 at this point) or if Pentax sends me a review unit (not likely, but if you know someone…).
Anyway….
So far I've used the 24-70 on both a crop sensor camera (the Pentax K-3) and the new full frame flagship the K-1. It's also been in the wet, the really, really wet, BC rainforest wet, but more of that in a minute.
Why This Lens Is Important
When I was a newer photographer, I wondered why all the professionals I saw had either the 24-70, the 70-200, or (more commonly), both. Well, it turns out that this focal range is widely used by photographers at weddings, events, and music shows because it's almost the perfect focal range. It's wide enough to be wide and long enough at the 70mm end to make a decent head and shoulders portrait.
It's no surprise that the Pentax DA*16-50/2.8 (a 24-70mm equivalent on a crop sensor), and later the Sigma 17-50/2.8 rarely left my camera.
It's also no surprise that much as I love the FA Limited primes, especially the FA 31/1.8, I purchased the new DFA 24-70 as soon as I was able. A new camera body deserves the best, and using a non-Full Frame lens just seemed wrong.
Well, also gear-lust, but that's something I get to talk to my shrink about.
Specs and Numbers
On the crop sensor the 24-70 turns into approximately a 37-107mm lens, which isn't bad for a walk-around lens, if you don't mind not getting super wide. Of course on full frame it's just a 24-70. It's compatible with any K-mount camera that supports SDM, which goes back to the K10D.
Focusing is done through the internal motor and not the screw drive from the body, which means it's fast and quiet.
The filter is an 82mm and it can focus as close as 1.25 ft, and has an aperture range of f/2.8 to f/22.
More boring stuff like this over at the Pentax product page.
Size and Weight
In real use, the first thing about the 24-70 is it is big. Like the K-1 body, it's not distressingly big, but compared to crop lenses it's a beast. Be prepared to lug close to two pounds of extra weight on your shoulder with this bad boy. It may take a bit of getting used to, but then you can just ask your full frame Nikon and Canon friends how they manage 🙂
Features
Not a lot to mention here. The lens just acts like a lens well. A couple of quick points though:
There's no aperture ring (unsurprising for a new lens).
There is a zoom lock switch on the top. I've never had one before and don't see myself using it, but who knows.
The Pentax "Quick-Shift" system is present too. This allows you to adjust focus manually when the AF is working and without having to switch into manual focus mode.
Comes with lens hood, lens cap, and a soft case.
Interestingly, the little slide out section in the lens hood to let you rotate filters that has been a part of previous Pentax lenses is not present. Maybe due to the size of the hood, or some other factor.

Note: I delayed posting this review because I wanted to take the photo below showing the different lens hoods to make the point…. of course, now looking at it I realize that the reason is most likely the depth of the lens hood really isn't enough to support or justify it.
Bokeh
This is generally pretty subjective. It's pleasant to see, maybe not as buttery smooth as something like the FA 31 Limited, but still no slouch. You can judge for yourself from this pair of gorgeous portrait subjects.
Weather Resistance
It's right there in the name right? The DFA 24-70mm 2.8 ED SDM WR. Pentax has been making their pro line of gear fully weather resistant since the days of the K-10 (i.e. wash it under the sink) on their bodies and flagship lenses. The 24-70 is the same. I can't say anything more about it than showing this photo of me shooting the (ironically named) Run for Water this weekend in a BC rainforest for over three hours.
The lens was out and exposed to rain that went from "vaguely unpleasant" to "downpour" for three and a half hours. Other than wiping the lens now and then it trucked along just fine. I have to admit that as a long time Pentaxian I sort of take it for granted that my gear is waterproof though.
If you're interested in the nitty gritty (pun intended) details of Pentax's weather resistant and water resistant lenses and bodies, you can find more here.
Focusing
The real thing that people will care about is focusing speed. Let me say, it is fast. The SDM motor is essentially silent (I've been so used to screw drive lenses that I had to double check to make sure that it was actually focusing!) and the lens feels "authoritative"when it locks onto a focus point. I suspect it will still lag behind a top end Nikon or Canon, but it's definitely no slouch.
In my use over the last few days I haven't had any hunting or mis-fires. The cases of focus not locking quite right were while in AF.C mode and only with runners coming towards me, and I will put the blame on the Pentax AF system.
Overall Handling
If you can deal with the size of the new full frame 24-70, and done mind swallowing your pride a bit after these years of pointing out to your Canon and Nikon friends that your gear is as good quality and weighs so much less, this lens is for you.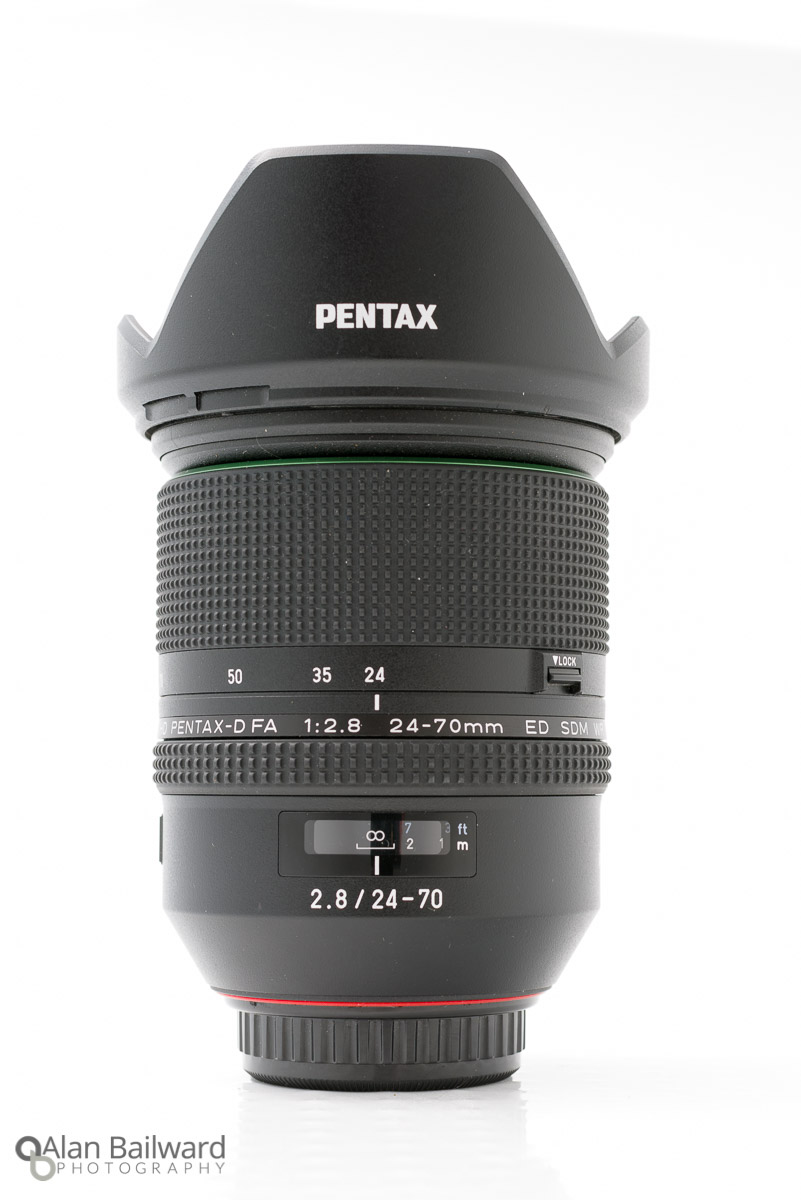 My initial complaint (well, muttering) about the zoom ring being in the wrong spot (higher up on the barrel) and feeling "weird" disappeared, as expected, pretty quickly.  Now it feels completely normal of course.
Price
The $1300 US ($1599 CND) price tag is steep, but less expensive than the comparable lenses from other brands ($1750 US for the Canon and $2400 US for the Nikon). Image quality is top notch (as is edge to edge sharpness and all that stuff, but check the resources section for other articles doing that sort of review).
Depending on how sensitive you are to the weight of the lens, you may want to look at investing in the battery grip to help balance things out a bit.
Conclusion
You know what I'm going to say here I'm sure. This is a great lens, with great speed and sharpness, in an incredibly useful range, on both crop and full frame bodies. If you're in the market for this, or want something that will compliment your new K-1, it's hard to go wrong with this as a first lens. While $1600+ CND is no small chunk of change, for what you're getting this is under the cost of the other big guys, and you will not regret it.
Pros:
Great zoom range (wide enough to be wide, zoom-y enough to be used for portraits)
Fast lens
Sharp
Water and dust resistant
Fast focusing thanks to the SDM motor
Full frame goodness gives that lovely depth of field
New and modern to take advantage of the resolving power of the K-1's full frame sensor
Cons:
So Who Is This Lens For?
The same question I asked in my K-1 review… who needs this lens?  First of all, I'm making the assumption that you have the K-1, because if not the question is do yo have need for a 36-105/2.8.  That said, if you are a wedding or event photographer, you already know that the 24-70 range is the one that is on your camera most of the time and this is a beautiful lens in that focal range.  The wide end is wide enough to allow you some wide angle feel and capture a big space, while the long end is in the nice range of portraits.  It's not quite the same look of a 100 or 200mm portrait lens, but is perfectly adequate combined with the full frame's lower depth of field look.  Or as I succinctly put it….
Wide enough to be wide, zoomy enough for portraits.
This isn't a specific portrait lens, if you work in the studio or are doing headshots all the time something more traditional like a 70-200 or the Sigma 85/1.4  are going to be more your style.  I'm not a landscape photographer so I can't comment, but if the focal length range is what you use for landscape, this is an excellent lens.  If you like a good walk around, just-about-right-for-almost-everything general lens, this is for you.
Who is it NOT For?
If you're used to light prime lenses or a kit or superzoom, this may not be your speed.  It's a big lens and realize this before you subject your pocketbook (and neck) to additional strain.  If you don't have a full frame camera and are not planning to upgrade in the next year, then the Pentax DA* 16-50/2.8 or the Sigma 17-50/2.8 are excellent (and lighter) alternatives that are both gorgeous.  If you have specific needs, such as a portraits or wide angle for interiors, you are probably going to look for other lenses in those specific ranges.
Resources
Gallery of Images
If you read this far, thank you for honouring me with your time and attention.  Here is a selection of my favourite images taken with the HD D FA 24-70/2.8.